(7th WONDER OF THE WORLD)
Angkor Wat was built in the first half of the 12th century (113-5BC). Estimated construction time of the temple is 30 years by King Suryavarman II, dedicated to Vishnu. The plan of Angkor Wat is difficult to grasp when walking through the monument because of the vastness. Its complexity and beauty both attract and distract one's attention. The height of Angkor Wat from the ground to the top of the central tower is greater than it might appear: 213 meters (699 feet), achieved with three rectangular or square levels (1-3) Each one is progressively smaller and higher than the one below starting from the outer limits of the temple. Covered galleries with columns define the boundaries of the first and second levels. The third level supports five towers –four in the corners and one in the middle and these is the most prominent architectural feature of Angkor Wat. This arrangement is sometimes called a quincunx. Graduated tiers, one rising above the other, give the towers a conical shape and, near the top, rows of lotuses taper to a point. The overall profile imitates a lotus bud, Several architectural lines stand out in the profile of the monument. The eye is drawn left and right to the horizontal aspect of the levels and upward to the soaring height of the towers. The ingenious plan of Angkor Wat only allows a view of all five towers from certain angles. They are not visible, for example, from the entrance.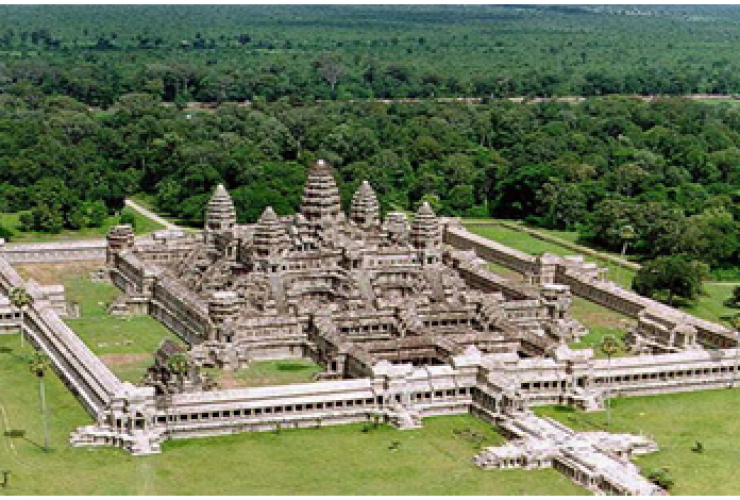 Angkor Wat combines two basic plans of Khmer temple architecture: the temple-mountain and the later galleried temple. It is designed to represent Mount Meru, home of the devas in Hindu mythology.
The temple is the heart and soul of Cambodia.
Dated: August 17th 2015
MISS KAJAL C. PATEL